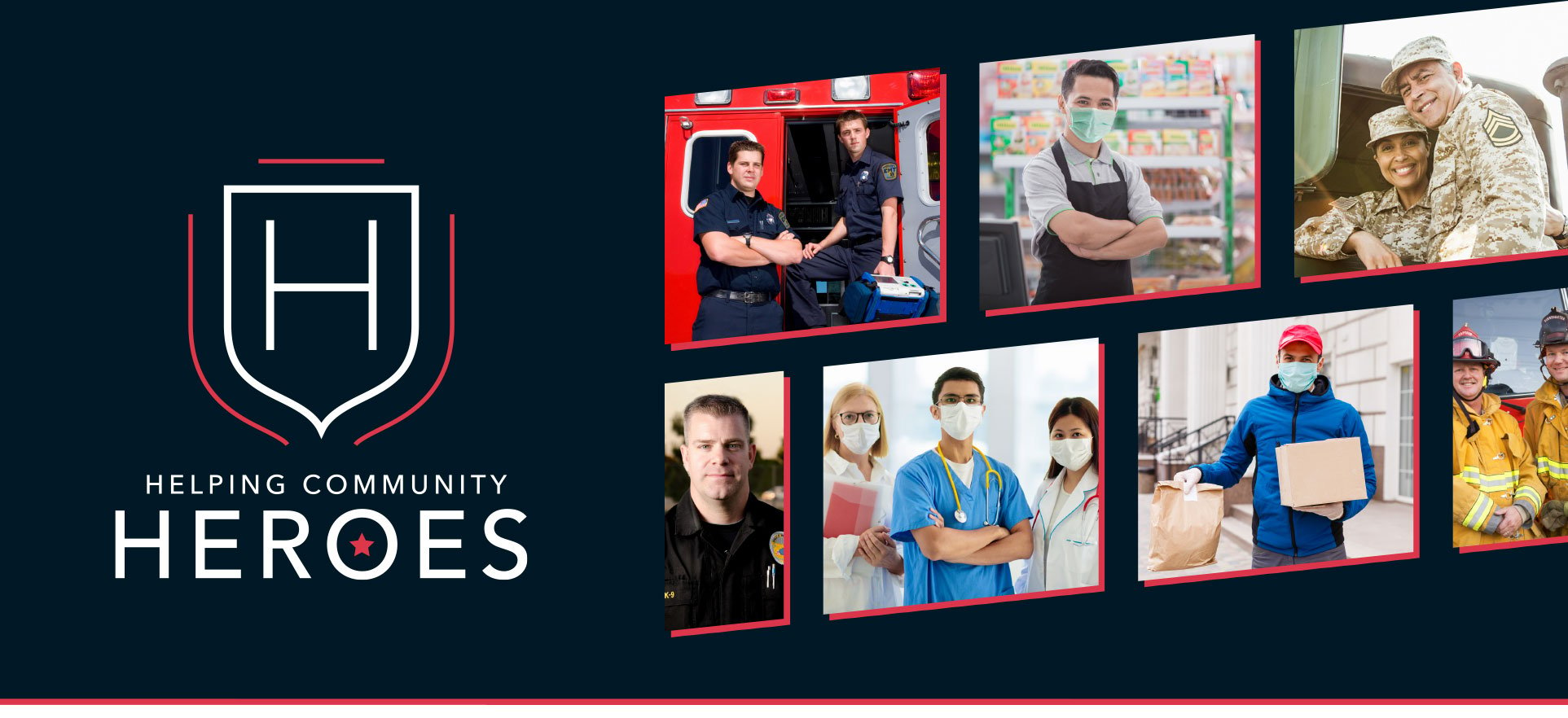 Helping you make housing more affordable
with a ¼% interest rate reduction, free.

To say "thank you" to our essential heroes we will buy down your interest rate by ¼% on your next purchase, and if you have a home to sell, we will offer you substantial SAVINGS as well.

We appreciate that amid COVID-19, First Responders, medical providers, and other essential workers have put everything on the line. To serve you in return, our First Team Family of Companies is making it possible for qualified heroes to take advantage of up to tens of thousands of dollars in SAVINGS when we pay for you to buy down, and reduce your interest rate by ¼% for your mortgage financing for up to 30 years.

Here are the
Possible SAVINGS Examples:*
30-Year Fully Amortized Fixed-Rate Mortgage
with

¼%

Interest Rate Buy Down:

---
$34,278

SAVINGS

on $700,000 Loan Amount
$29,381

SAVINGS

on $600,000 Loan Amount
$24,484

SAVINGS

on $500,000 Loan Amount
$19,587

SAVINGS

on $400,000 Loan Amount

Since 2017, First Team has offered a similar savings program to military households and has been recognized as the #1 contributor to this program nationwide by Leading Real Estate Companies of the World®, the largest network of independent brokerage firms in the U.S.
Take advantage of this program to have us buy down your interest OR apply your substantial SAVINGS directly toward closing costs.
Save TWICE when you buy and sell a home through this limited-time offer.
We thank you for allowing us to stay safe at home.
Now trust us with yours.
For more information on taking advantage of this limited-time offer, contact me.

First Team® Real Estate
Founded in 1976 in Orange County, First Team has been trusted by 250,000 Southern California households for real estate sales and purchases. As a local family-owned business, we are big enough to have the resources and small enough to care.
Homeowners First Mortgage
Homeowners First Mortgage offers hundreds of loan choices to our customers, with our strength rooted in the knowledge and experience of our loan officers. Many of our loan officers have been in the industry for decades and have successfully handled all types of home buying situations. Our team is experienced, professional, and readily available to our customers to answer any questions, address issues, and help them navigate through the mortgage process smoothly.

*Offer provided by First Team Real Estate and may be withdrawn at any time, with or without notice. Offer subject to cooperation of independent brokerage and agent members of the MLS on co-op transactions and consumer's use of First Team Real Estate's affiliate, Homeowners First Mortgage, LLC for financing. Maximum loan amounts apply. Discounts and saving promoted here are estimates only as of 05/6/2021, are based on a market interest rate of 3.25%, and do not bind First Team Real Estate or any of our affiliates. By way of example, a home with a purchase price of $1,000,000 with $700,000 financed at 3.25% / 3.277% APR and borrower-paid closing costs of $2,400 would result in $34,278 in interest savings over a 30-year term. First Team Family of Companies consists of essential services of escrow settlement, title insurance, real estate brokerage, and mortgage finance services. You are advised to seek your own counsel from your accountant or legal advisor. 108 Pacifica, Irvine, CA 92618. Lic# 01008773. © First Team® Real Estate. All rights reserved. This is not intended to solicit a listed property. If your property is currently listed for sale with a broker, please disregard. Financing provided by Homeowners First Mortgage, LLC, 108 Pacifica, Suite 250, Irvine, CA 92618. Corp NMLS#: 1932549 (www.nmlsconsumeraccess.org). Loans made or arranged pursuant to a California Finance Lenders Law license. This communication does not constitute a commitment to lend or the guarantee of a specified interest rate. All loan programs and availability of cash proceeds are subject to credit, underwriting and property approval. Programs, rates, terms and conditions are subject to change without notice. Other restrictions apply.
Testimonials
" Lisa was so patient with us during our search. It took a while to find our home, but she never gave up hope that we would find the perfect one. She held our hand through everything and was so supportive. If I ever decide to move again... If... I would reach out to her FIRST!! "
- vlcopeland
" Lisa is an AMAZING agent! Always on time, extremely helpful and incredibly knowledgeable about the real estate business. She made the entire process incredibly simple and helped reduce the amount of stress that comes with purchasing a home. I would highly recommend her to any of my friends and family! "
- William C
" It was a pleasure working with Lisa. We were moving to Northern California and needed an agent that could make that move as smooth as possible and Lisa came through for us. We had some repairs that needed to be taken care of in order to get our house sold and Lisa went above and beyond in helping us with the process. Also, we knew our home was worth more than a previous agent we spoke to was quoting and when I told Lisa the price we wanted to list our home for she didn't resitate once. She listed our home, it got 23 showings in 3 days and 5 offers! She shared the same enthusiasm for the value of our home that we did. We were very pleased with the entire process and have already recommended Lisa to a couple of our friends. Awesome agent. "
- John and Isabel Rosser
" Lisa Mahoney was a real godsend in helping me with a difficult short sale on the brink of foreclosure in 2012 when the market was still in a downward spiral. As I was suffering with severe health problems, her abilities and competency literally took charge of every aspect of the process from photos to bank negotiations to reminders of paperwork I needed to complete. As well as being skilled she is also highly trustworthy and sensitive to individual needs and situations. Lisa Mahoney was also very proactive in conducting showings as well as protecting me from unscheduled intrusions. I have never encountered a more professional and caring real estate professional and highly recommend her services. "
- user1571898
" If you are a first time home buyer, you need to work with Lisa! She is helpful, patient, and honest throughout the entire process. As first time buyers, we had a lot of questions, and no matter how random, difficult, or silly our questions were, Lisa responded quickly and with confidence. We worked with other realtors before working with Lisa, but they didn't compare. They didn't make us feel as comfortable or prepared as Lisa did.  She is knowledgeable and efficient, and she helped to make our home buying experience as painless as possible. With every obstacle that came up, Lisa had a solution: Trust her expertise! "
- Chrima Luna and Daniel Barnum
" Lisa was awesome . She was patient and helpful . I never felt pressure by her to put in bits on houses even after I looked at more that 30 houses. Thank Lisa we love our house and we are happy with our purchase "
- Eva pat Carrillo
" Lisa provided exceptional service when we sold our home. She was responsive and led us through the process with minimal disruption to our lives. She took care of every little detail with a warm smile. From start to finish, hands down she is the best realtor we've ever had the pleasure of working with, a true professional. "
- Adam and Marissa Rivera
" Lisa was very helpful and pleasant thru our entire nightmare with lenders I can't say enough how grateful we were to have her on our side I will always refer her to anyone!!! Thanks Again The Turners "
- Ray and AMy Turner
" Lisa is about as good as it gets! She was VERY helpful and VERY patient the entire way through my home purchase. She showed me tons of houses in a very rapidly changing market. I can't recommend her enough! "
- askrend
" Lisa is awesome! The whole process went more smoothly than I thought possible. Lisa is an expert and she immediately responded to all of our questions. "
- Michael and Jenny Baker
" Lisa Mahoney is an excellent realtor, with exceptional skills. We found her to be honest, punctual, professional, and reliable in every aspect of our home sale and new purchase. The service we received was outstanding, and many of our friends commented on how well Lisa handled our transaction, and how exceptional our experience was. Lisa Mahoney deserves the highest recommendation, and we feel honored to have worked with her. "
- JHolt
" I had the privileige of working with Lisa on purchasing a home in Corona in 2008. Being new to the area, Lisa was very helpful in educating me on all Corona has to offer and asking all the right questions to better find me a home that suited my needs and wishes. She covered everything from A to Z and kept me abreast every step of the way. Very happy with the service and would not hesitate to work with her in the future if the need arises. "
- jhn edson
" Lisa was absolutely perfect to sell my home.... there were a lot of factors involved inckuding my 86 year old mother with Alzheimer's , not wanting me to sell her home....We had lived there since 1972. Lisa was so friendly, so understanding, so patient. Always available, on time, always had the right answer. She is a wonderful person in general and si kniwledgabke. If not for Lisa and her husband Kevin, I am not sure I would have gone through with the sale of the house... But I trusted Lisa, and it was the right thing to do.... "
- patricia trevino
" Lisa was very helpful and informative throughout our first home purchase! From the beginning, she took note of what we were and weren't looking for, and even provided us with alternatives for homes and areas we otherwise would not have considered! From the day we began seriously looking for a home to the day of closing and even after, she has gone above and beyond for us and we truly cannot express our appreciation for all the help. Would not only recommend for anyone purchasing a home, but will also be seeking her help and guidance the next time we purchase! Thank you again Lisa! "
- Jonathon and Cristie Emilio
" Lisa has been our agent for the last 5 years and we have had great experience with her. She helped us buy our first home, sell that home, and got us in a home we plan on living in for long time. She was very helpful and very patient with our first purchase and gave us lot of guidance and help to get us our home. When we sold the home she also did a great job. We had a offer and a buyer after the first weekend she posted our home. She posted some great photos of the house and all transactions for the sell of the home was very smooth.When we purchased the second home it was a sellers market. It seemed like houses were flying off the market, but Lisa worked hard for us to get us the home we wanted. She gave us pointers and tips to help us have better chances to getting the house we wanted. Overall we are very happy with the services Lisa has provided us with and would recommend her to anyone who are looking to buy or sell their home. "
- Seiji arimitsu
" Lisa was absolutely perfect to sell my home.... there were a lot of factors involved inckuding my 86 year old mother with Alzheimer's , not wanting me to sell her home....We had lived there since 1972. Lisa was so friendly, so understanding, so patient. Always available, on time, always had the right answer. She is a wonderful person in general and si kniwledgabke. If not for Lisa and her husband Kevin, I am not sure I would have gone through with the sale of the house... But I trusted Lisa, and it was the right thing to do.... "
- patricia trevino
" Lisa was absolutely delightful and professional every step of the way through selling, escrow, and even offered to help us move. We only had our house on the market for about 3 days before it sold and that was due to LIsa's advice and guidance on what needed to be addressed before putting it on the market. I would highly recommend her to anyone who wants a very personable and effective real estate agent. "
- Greg Aycock
" I was referred to Lisa by a family member. I worked with a prious real state and I felt like they weren't getting my needs. She understood my needs and helped all the way. Lisa is very patient in the process, she was never pushy in getting me into something I didn't like. I would definitely refer her to a family member. Thank you Lisa for your help. "
- Jaqueline Pat DeMurillo
Previous
Next